Sharing their joy..
When we requested few of our clients over the years to share what counselling in general meant to them this is what they have shared and we have displayed them as a sign of gratitude to them, as they have expressed it, with their full permission. Since confidentiality is the cornerstone of our services, we decided not to reveal any personal information of these wonderful people, who were kind enough to share their joy with everyone.
1. I am a doctor by profession and my wife is a schizophrenic, on treatment. We have a son studying in the 11th standard, now. He normally scores well but, after joining the 10th standard, I noticed that he lost interest in studies and became depressed. He said he could not concentrate on studies and could not remember whatever he had studied and was scoring poorly...Initially I took him to a psychiatrist friend who gave him anti psychotic drugs. However, fearing the side effects I did not give him the drugs. (I DO NOT recommend this to anyone nor am I encouraging anyone, I am a doctor and know what I am doing. Wherever psychiatric care is necessary please follow your doctor's instructions and clarify your doubts with the psychiatrist) My son himself asked for counselling. I searched for one near my area and found Ahana counselling center and Dr.Kavitha through net.
I fixed an appointment and on the first appointment itself, my son was a little elated. We used to go once a week and then biweekly. Initially, I was in the grip of fear as to how he would face the public exam. Our series of meetings with her has done magic. She counselled not only our son but also his mother and us as a family together. This had a tremendous positive effect. My son gradually started improving. She also advised on diet and yoga as he was putting on weight. He was taught relaxation techniques too.
Though I was very aware that 10thstd was a crucial year, which will pave the way for his future, I did not pressurize my son to study or score high marks. I accepted and understood the fact that he was suffering and was down. The main aim of taking him to counselling was to treat his depression and make him healthy and happy again. This was the first priority. I really love my child a lot and have a responsibility towards him. I have to set a good example for my son on how to face the up's and downs of life. It was very tough for me, as I had to do it all alone, manage home and work, and care for my wife and son. I used to be very stressed from all the work and managing him all by myself, but I could not allow him to see that or take it out on him. It was up to me to balance it all out, as it involved his whole life, well-being, and future. I have given up my evening practice for some years now as I used to personally teach him in the evenings because he was comfortable and wanted it that way.
He was also facing some peer pressure issues in school, which only worsened his situation. He was a very sensitive and soft child and now due to depression, he became even more emotional, sad, and irritable very easily, it was an even bigger challenge, but we got through it with counselling. With regular sessions with the counselor, his marks started to improve slowly. Though his board exams were getting closer, I still did not put any pressure on him. I noticed that with no pressure on him and the burden that he felt, to please me and his teachers taken away, he started blooming into a happy and health, confidence child. Now, he wanted to do whatever he was capable off.
There is always is a plan B, for when life throws in something unexpected. However, I believed that with his families love and support especially during times when he is low, he would succeed in life. I was prepared for whatever and kept assuring him about of the same, but he kept feeling guilty that he was letting me down and not living up to the expectations because I was a doctor. This was adding addition pressure on him. I did not want him to feel that he was indebted to me, his teachers, school, family, society, nor feel guilty that I will feel let down, and that it was all over for him, if he cannot perform well. This is too much pressure for a child. I know it may sounds unrealistic to many, but I just really wanted my son back, wanted him to be a happy and normal child.
Through counselling, I began to understand that he was not being lazy, and not performing well, that he was no longer interested in doing his daily tasks, as he was depressed and required help. I felt helpless that I could not help him but had has his best interest in mind. As a parent, I wanted my son to be successful and do well in life, but not at the cost of his health. Counselling has helped him become more confident about his abilities, emotionally stronger, has equipped him with skills to manage situations better. His ability to manage his interpersonal relationships has also improved. The bonding and understanding between my wife, son, and I, have become better. Along with counselling, my patience, love for him and confidence in his abilities paid off !!!! I knew that if he were OK he would do well. You know the marks my son scored in his 10thpublic exam????. He got 100% in science and 97% in other subjects!!! He is now in plus one, in maths, biology group.
He is continuing his counselling sessions only the frequency has reduced.
No amount of words would be apt to describe the bundle of confidence and well-being, imparted on my son by Dr.Kavitha. She got him to a point where hope is always up. I would feel very blessed, if this feedback help and inspire other parents and young people who want to get rid of their mental and emotional issues.
Madam, you have been a big part of this journey to a new life and I wish for success in all your endeavors.
2.My better half and I approached Ahana with a load of family problems. We were, able to come up practical solutions for our problems and now we are happier than before. During counselling, Dr.Kavitha made us feel very comfortable and made us to realize how important a family is. Lot of positive changes have happened in both of our lives ...We thank the Almighty for showing such a person to guide us rightly.
Feedback from a satisfied counselled person.....
3. Thank you Doctor for bringing so many changes in our family life, by creating awareness in us. Our family life is peaceful and we are happy. Thanks to your sincere, dedicated and effective counselling. My partner has also given up the habit, which was causing so much disturbance in our family life.
4.Dear friends,
I was under anti-depressants for five years from the age of 20.I would say I am very lucky to find Ahana and being treated by Doctor. Initially, when I took medicines I was getting back to my normal self. Then I started to put on weight and I became a robot with no emotions. I also felt very lazy and tired and could not concentrate on anything or do much. People around me started to tell me that I am lifeless. I was annoyed, angry, and frustrated. But it was true. It was then I found Ahana and Doctor who refined my personality. After nine sessions of counselling, I gave up my night dosage and started to lead a normal, healthy life. Today, after 4 and half months of regular sessions I work for almost 15 hours a day with short breaks for my profession, for which I have set very a high goal. Now I have given up 70% of my medication, I get good amount of sleep, my morale is very high, and I really enjoy my life. It is because of the changes in my lifestyle diet, attitude, and thought process. All these changes in me were because of Doctor and her counselling sessions. No amount of words would be apt to describe the meaningful life I lead today because of Doctor. Counselling is the very best choice to get rid of mental illness. But it has to be done under the supervision of a professional.
I sincerely hope sharing my experience in this feedback would help and inspire other young people who want to get rid of their mental illness (in whichever cases possible) without medicines and lead a healthy life.
5. I met her at a point when I was thinking of committing suicide. I was feeling guilty about having to live the human form of life for I believed civilization was getting this world to an end and I felt helpless. As I write, it sounds quite funny and dramatic to me. I hated everyone around me, because of all the hurt and trauma caused to me by people whom I loved and believed in, and some whom I thought were my friends and well wishers. When I started pouring out to her, I started realizing, I had been drifting away from reality as an escape to other personality problems that I have developed along the way. Honestly, I didn't know what were the 'real' things that had been affecting me. No one around me could get what i was going through, nor understand how much i was suffering. I have been meeting her for the last few months and it has done magic. I won't say I am happier than ever but, I can tell you my days are much peaceful and I am slowly re-building that lost respect for myself and that lost compassion for people. The best thing about her is, She doesn't decide for you, She lets you decide for yourself.. And she goes a step beyond to.. however you name it.. say.. to pray.. or to wish good things for you.. or sends positive energy to you.. She gets you to a point where hope is always up! and that is the magic i had mentioned earlier.
6. The sessions were good and i got really benefited in creating a better self image which i could nurture to a world class level. Thanks a lot mam.
7. Today is guru Poornima. I'm taking this golden opportunity to express my gratitude and thanks to the doctor. More than enhancing my life, she made me dissolve who I was. Her contribution to my life Is something which Is beyond words....It's a grace.....A journey of discovery.
There have been, many, twists, turns and a few roadblocks along the way. Each, teaching me, each showing me something about myself. I have spent most of my life trying to figure myself out. Sometimes succeeding but most times not. I needed someone, a guide, to help me make those connections, to help, give me the understanding. That guide is you. I know I had to work hard in letting you, be this for me. I went against everything my Independent self is...
I know, in the beginning I tested you a lot. Somewhere Inside me I needed to know you would stick with, me, if the going got tough, if I started showing the unpleasant parts of me. I also needed your humanness within the relationship. And in staying constant with your reactions towards me, no matter what I brought into the room a safe place was being created, without me even aware of It.
When I ran into a roadblock, when I had no words, when I couldn't communicate, you found other ways to help me out, to make the connections all this helped me in facing the truth. Ahana was a place I could share without becoming lost within the experience of reliving. You gave me a place to be...
This journey has given me hope. Hope to realize what is happening in each moment, hope to work on any bad memories and excel in this endeavour. I will never forget you doctor. You have been a big part of the journey towards a new life. You worked for me along with me. I am grateful to the woman who changed my life.
8. I contacted Dr. Kavitha to seek redressal on a very sensitive and traumatic issue going back 30 years to my early childhood. With complete professional sincerity, with no presumptions or prejudice, she took the matter to closure with a sense of justice to all concerned. Thus, a hopeless situation of guilt and extreme trauma ended as a new chapter of hope. I am deeply grateful to her, thank you.
9. It's a life transformation for me, i feel the huge difference when I met the doctor first time and now . I have to say that she is been a great mentor who has mentored me and being instrumental in bringing a bundle of confidence in my life. I can see my past as some one's past, which would never have been possible without her treatment. I went for help to come out of love failure. But she has helped me out in every areas of my life like attitude, behavioural & to approach the life in holistic way. I understand that life is to live & not to just exist. Certainly, credit goes to her.
The treatment process made me realize myself. And the best part is without any medications. She taught me techniques, which I consider as a way of living my life going forward and to handle things without anxiety. I will say, the treatment/therapy given to me is not just to come out of present difficulties but also to live a life happily in all aspects & to reach the higher goals in my life.
The art of letting go is being taught to me by my mentor - Dr. Kavitha. And I understand the happiness is a way of living life & understanding. I realize after my treatment that, abundance is my birthright. For that matter, abundance & happiness is everyone's birthright.
I've started focussing on my life after my treatment. Since the day I realized that am free from all of my unwanted thoughts, I can feel the peace within. And this realisation was not possible for me without Doctors help. Of course, the one who achieves greater heights in life is out of self-realisation. Transformation in my life brings me a lot of happiness. Some of the brainstorming session with her, gave me new hopes & ideas, which helps to lead my life in the way I wanted to be.
I can say, its more of a mentor- student sessions instead a doc-patient's appointment. The counselling sessions have helped me make my life simpler. Each & every time when I face success in my life, I would strongly feel that, its all because of the direction shown to me by the doctor. There is nothing more than growing in right hands. Only faith alone exists instead of fear. I have the guts to face my life no matter what happens. And obviously the credit goes to Doctor.
10. I always kept my issues hid under a sheet and pretended it never existed. I used to live in denial. When I got married I just assumed it would eventually sort itself out, I couldn't have been more wrong I woke up one morning and realized my whole so called balanced life was falling apart and it was time I accepted I needed help. This whole time when i was battling with my problems, all that the people around me could understand was, that i was wrong, being impulsive, emotional, and short-tempered. So i could not reach out for help to them, in areas where i really needed it.
By god's grace I found the most amazing person I've ever met, who turned out to be more than just my counsellor. She became my friend, sister and a guide. I still remember the first day we met and the very first question I asked her, "you wont judge me rite?" today after knowing her for about 10 months I feel so stupid for even asking this question. She is a person to whom I have been able to share anything without having the fear of being judged. And I have the utmost trust, belief and confidence in anything she says.
It was amazing how she found out the underlying reason for my issues and how beautifully she helped me to resolve conflicts. To put it in a nutshell she saved my life and marriage. She saved me.
I am a very different person today. I am ACTUALLY balanced. I am proud of who she has made me to be. What I was then, it is no longer me. And I owe it all to my god given gift Dr. Kavitha.
I wish Doc all success in life. I wish her and her family all peace, happiness and all the grace of god possible.
11. You are an excellent human being who takes everything positively. I have seen you more as my friend. Whenever I discussed my issues with you, you helped me come out with solutions, which would build up my confidence level.
I discussed all my family problems with you and when I was confused about my decision, you helped me overcome the confusion and to take a strong decision. I wondered, seeing your talent....... till I knew that you are a counsellor. Your words were mesmerizing to me and you are a person whom I can always trust. Your words are very soothing and encouraging. I am sure many human beings will be benefited with your valuable suggestions and treatment.
Nothing should be hidden with a Doctor & Lawyer........ you are so approachable that patients can feel free to express anything to you and get the remedies.
My best wishes and prayers to you in all your endeavours.
12. We got married a year back, we both had so many lovey-dovey ideas in our mind about married life, but after marriage, so many personal, family, & professional problems filled our lives,and we started losing interest in our life. Everything started falling apart; even the elderly persons of our family misguided us unknowingly according to their interests. This resulted in increased fights between us over things that were of feeble importance. We lost our precious one year in worthless quarrels.
Then a thought of a counsellor came across in our mind. We met Dr. Kavitha at Ahana & shared our story, day by day we discussed our problems & came up with solutions to solve our problems under her guidance. These sessions helped us to understand each other from a different angle, now we feel relaxed and more confident to make our own decisions, solve our problems, and resolve our misunderstanding.
Because of the counselling, we came to know about our mistakes honestly. Finally, we faced the truth; we started to work hard in the right way for our happy life.
According to us Dr.kavitha (counsellor) is a perfect person to discuss such problems with, because she has the gift to understand, not judge, to be impartial and finally help us make decisions that would benefit everyone, we can discuss things or topics without any hesitation, which we might feel while talking with elderly family persons.
13. Living in the world of fantasy is nice but very frustrating. I thank you for breaking the bubble for me. thank you also for reinforcing my trust in THE LORD. Now when I get into a fix I keep telling myself If GOD is with me who can be against me. thank you so much
14. When I underwent a lot of health problems, I was advised to go for counselling. I visited many counsellors. They listened to my problems and told me to continue in the next sitting. I was given high doses of anti-depressants. After few months, I developed burning sensation in my tongue and stomach due to over medication. On such occasions, I had to ask my husband's help to accompany me, wait for a long time, and then return home frustrated. At one stage, I lost my patience and stopped going to them.
Fortunately, I met Kavitha for some other reason. Though she was my family friend, I didn't know that she was a counsellor. She spoke with me with utmost care. I felt very comfortable with her. Without knowing that she is a counsellor, I started talking to her about my problems. She then revealed that she is offering this service. I was so happy when she told this and requested her to consider me. We met several times. I felt I got back my childhood friend, to whom I can share everything (literally everything). On repeated visits, I came to a conclusion that I should be bold enough to face all my problem myself. She gave me that self-confidence, I felt very happy that she is into full time into counselling. According to me, she is God sent to energize us. I realized that the happiest people don't have the best of everything, they just make the best of everything they have.
May God bless her and her family.
14.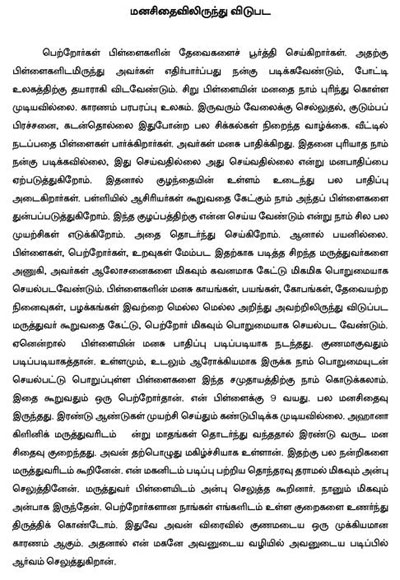 15.GETTING RID OF DEPRESSION
Parents fulfil the requirements of their children. In reciprocation, they expect their children to study well and prepare themselves to face this competitive world. We are not able to understand the minds of our children. The reason is this fast world. Life is filled with many complications, like . . . both parents are employed, family problems, debts. Due to these pressures and tensions, parents tend to spend lesser quality time with their children. Children watch the happenings at home and get affected emotionally, which the children are not always comfortable nor able to express to their parents. Without understanding, their problem and pain or real needs we parents further pressurize their minds by telling them "you are not studying well", "you are not doing this", "you are not doing that". Because of this, mental torture the children's hearts get broken and they suffer a lot. The children suffer in silence, or project their grievances with some negative behavior, not studying, or not following disciplines. We sometimes also listen to what schoolteachers say and we trouble (torture) our children. We take many efforts to get rid of such confusions and emotional disturbances. We do that continuously. But, it is of no use and not the right solutions to. In order to develop better and healthy relationships between parents and children, we have to approach Doctors who have studied for this, and listen to their advices very carefully and follow their advices very carefully. Parents have to slowly understand about the injuries in their children's mind, their fears, angers, unwanted thoughts, bad habits and they should follow such Doctor's advices very carefully, to help their children get rid of those problems. Since children's minds get affected slowly, step-by-step, cure will also happen step-by-step. We have to act slowly and steadily to make our children's mind and body healthy. By doing so, we can provide responsible children to this society. The one saying all this is also a parent. My child is 9 years old. He was very depressed. We were not able to find out what it was for two years, in spite of our best efforts. His depression reduced due to counselling done by the Doctor at Ahana Clinic for four months continuously. My son is happy and peaceful now. For this, I said many, many thanks to the Doctor. Doctor advised me to shower lot of love and affection on my son. I showered and am continuing too shower my son with lots of love and affection. I do not trouble him about his studies or anything as I used too. We, parents, realized our mistakes and have corrected ourselves. This is the main reason why our son got cured very soon. Now, he is showing good interest in life and his studies, by himself.
16.At Ahana, my first at counselling and my best at first I'd say and under the mentoring of Dr. Kavitha or ma'm as i fondly address her, its been a journey no less better with cleansing sessions every ''Tuesday'' (that happens to be my favorite day) close to 8 months now. Her sessions opened new dimensions to my characteristics that I once thought was me. I was more lost or a ''package'' of emotions not knowing the ''purpose'' or ''focus'' to life. With her careful guidance in a profession that takes immense responsibility in reviving a person it became possible for me to traverse from confusions to much needed clarity.

I'm 25 and am yet not where i want to be. But I'm definitely not where I used to be, thanks to her ! I got back to ''sense'', away from superstitions and also away from unnecessary baggage of emotions. There was a lot of reasoning that happened, a lot of questioning with her answering my queries in her "own fashion" that made me analyse more and made it possible for me to get the answers by myself to those that later followed. Our conversations still resonates in my mind. That's exactly what I mean when I say her "own fashion" that's filled with expressions adding color to her words that makes it possible for it to stay etched in our minds for long.

There were a lot of times when my ''unpredictability'' threw in and she managed to bring out the best through the worst, I evoked. My idea of life, and why things happened the way they happened widened. I, now know the power that exists in me. Also I now understand how our thinking, alter course of things. I also now know who I am and how it's really not needed of me to be like every other person I come across but just love myself and be comfortable in my own skin that's got its own pluses.

My familial ties improved with me understanding my parents and others at home a lot better through her expert view. It is amazing how she analyses someone so much in their very first day. My most addressed issue i.e my "giving back" TWICE to every person who I think has hurt me has almost STOPPED. My core issues - depressions & mild OCD, has improved by leaps and bounds, touchwood. Also, my constant fighting with something that doesn't "work" for me is getting done with. I'm more aware of what I do these days. My "craziness" is in check too. I now realize mistakes happen and its upto us to ''okay'' it by considering mistakes as ''okay'' and are a part of the journey towards perfection. Also that, "success" follows hard work and with us living an ethical life style, and with us constantly working towards it.

I used to think God is so unkind to me but it turns out that he has been very generous only that it takes a real mentor for it to dawn into you. Hoping to keep continuing to fly by and reach my destination soon through her sincere words.

Thank you so much ma'm for an enlightening experience overall and I wish you all the very best in all your future endeavors !


17. Ahana counselling has been a great source of support in my life. I started counselling almost a year ago when i was an impulsive, insecure young girl. Dr. Kavitha has worked with me one on one patiently listening to my past and bringing out the good in me. Previously i had no goals in life and the very little i had were unrealistic and pathetic. My dreams now are much more real. I used to be very lethargic and lazy but now my life has become so energetic that i look forward to learn new things every day. I was a girl with zero self esteem and self-belief. though my self esteem isn't very high right now it has improved heaps. I now believe in what i do and i look forward to what the future has for me. I believe that one day i will reach where i want to be right now and after reaching that peak i will continue to aim higher and aspire for more. I was on medication for 4 years of my life and as a young girl i was always depressed. I am no longer on any medication and i am perfectly able to cope up and do well in this society. I would like to take this opportunity to thank Ahana counselling for their love and care as well as their great support and wish them all the best in their journey of saving lives.
Two year later...
When I wanted to continue my feedback from where I left it last year, I had absolutely no words for Ahana counselling, I was completely speechless, I did not know what to write, I thought god I do not have any problems!!! Then I was reminded that I do not have to have problems just improvements. I have been in therapy for 2 years and I have changed from this zero self esteem, insecure, impulsive, depressed girl to someone, who is so completely calm, secure, confident and most important happy. My decision-making, problem solving, and social skills have improved leaps and bound. I very clearly know what I want from life and so have set some very ambitious goals for myself, because I have also become aware of what I am capable of - A LOT. I have a very healthy lifestyle and have developed a disciplined routine for myself now. I have achieved so much in these two years that I am very proud of who I am today. I used to feel very lonely all the time even though I had my family and friends around. For whatever reason except for a couple of friends, who were too young to help, no one understood me and what I was going through, why I was not normal like the other kids or why I was depressed. No one wanted to take responsibility for my problems, when I was incapable of doing so. I got blamed and called weak and was compared with other children all the time. Then I stopped sharing my problems because it was of no use and only ended creating a lot of arguments and fights and increased my depression. Now I have learned to take care of myself and to be responsible for my life. My relationship with family is awesome. I feel like I can take on the world and on one can shake me.
Ahana , congratulates and appreciates the courage shown and efforts taken by all these wonderful people, and also everyone who has and are a part of the Ahana's counselling journey, thanking each one of them. All the life improving, positive changes, came about because of their sincere cooperation and will to change, wanting to make the best of this beautiful life and also because they decided to take that one step....
Our sincere gratitude to that power which, makes the sun- shine , the rainbow after the rain, the ant, lift 50 times its own weight, our hearts, beat, from the beginning of life till....the end of our journey, without a rest, every humans, fingerprints unique and different just as every single human is created.... unique and different !!!